The Andaman and Nicobar Islands, a Union territory of India comprising 572 islands. Of which 37 are inhabited. They are a group of islands at the juncture of the Bay of Bengal and the Andaman Sea. Which are the Top Places To Visit In Andaman And Nicobar Islands?
The territory is about 150 km north of Aceh in Indonesia. And is separated from Thailand and Myanmar by the Andaman Sea. It comprises two island groups, the Andaman Islands (partly) and the Nicobar Islands. The Andaman Sea lies to the east and the Bay of Bengal to the west.
The territory's capital is the city of Port Blair. The total land area of the islands is approximately 8,249 km2. The territory is divided into three districts: Nicobar District with Car Nicobar as capital. South Andaman district with Port Blair as capital, and North and Middle Andaman district with Mayabunder as capital.
The Andaman Islands are home to the Sentinelese people, an uncontacted people. The Sentinelese might be the only people currently known to not have reached further than a Paleolithic level of technology. However, this is disputed, as evidence of metalwork was found on their island.
Here are some top places which you should visit:-
1. Havelock Island
Havelock Island is one of the primary destinations of the Andaman and Nicobar Islands. Which is famed for its pristine beauty. That goes unmatched and untouched. And unexplored natural beauty and virgin forests of the earth. It is a striking contrast of verdant greenery, sandy whiteness, and blue vast ocean body. Due to its more than fair share of popularity among tourists and travelers. Havelock has developed luxurious tourist resorts and hotels to pamper the guests living in the lap of intense natural beauty. Havelock is the largest of the islands and falls under must-visit destinations.
Snorkeling and scuba diving at Havelock under the aegis of expert trainers. Can turn into a lifetime experience. Watch the myriad sea creatures, some still and some moving, some peeping and some hiding, and some camouflaged. Some in groups of thousands and some single and solitary guarding protected corners of shelter. Havelock island is considered to make the Andaman and Nicobar islands really interesting. Thus, it makes the list of Top Places To Visit In Andaman And Nicobar Islands.
2. Neil island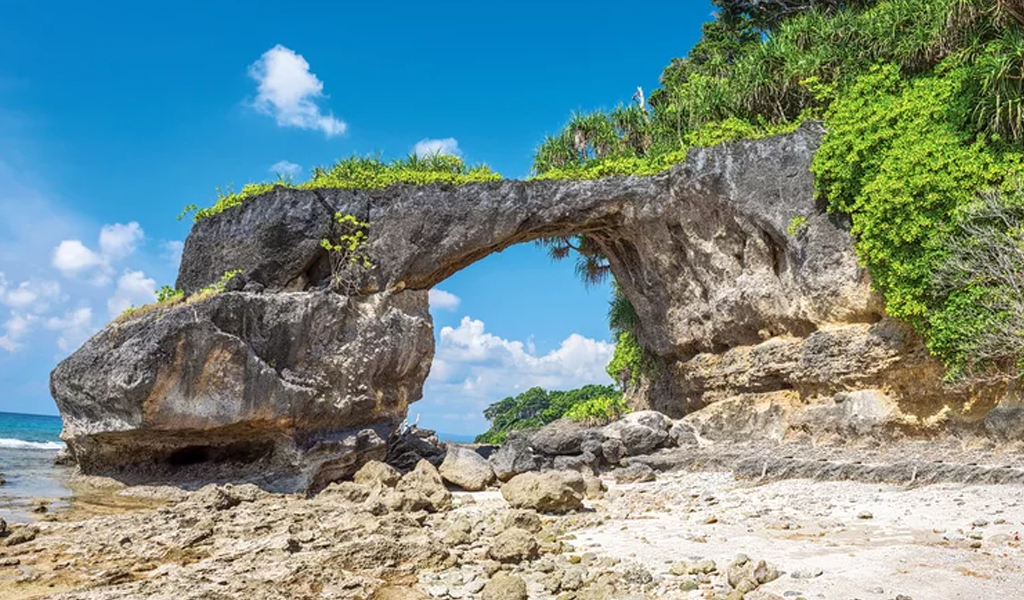 Neil Island is another very scenic natural paradise. And with captivating white sandy beaches and lush green forests. This island can be reached easily from Port Blair or from Havelock via regular ferry services of various categories. Neil Island offers its own special appeal with some very popular beaches and crystal clear waters. And that resonates with millions of teeming wildlife and exquisite corals. Neil Island came to be inhabited in the late 1960s.
Relaxation on the beaches of Neil island watching the magnificent sunsets and sunrises across the ocean is a blissful delight.
3. Ross Island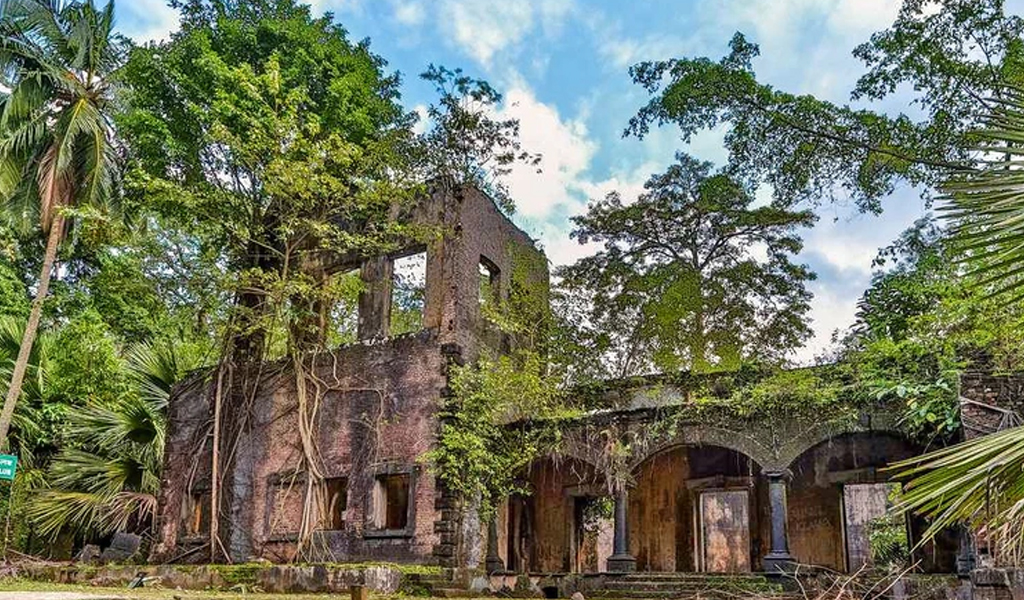 Ross Island carries the rich heritage of the British legacy. Since the time when India was under the British Rule. It was named after Sir Daniel Ross who was a British Marine Surveyor. As you go through the historical and architectural ruins. You easily get transported to the world of the pre-independence Indian era. Ross Island is definitely a must-visit if you are in Andaman and Nicobar islands. The Ross island becomes extremely interesting as you walk through the Church, Hospital. And bakery, Press, Swimming Pool, Troop Barracks, Ballroom, Chief Commissioner's House, and Government House. Take some rest in the shade of palm-lined beaches. And watch the pipeline of waves crashing on the shores. And look around for deer, peacock, and ducks all around you. Due to the rich heritage and British legacy, this is also in our list of Top Places To Visit In Andaman And Nicobar Islands.
4. North Bay Island
The North Bay Island gives an intensive feel of summer and sand. The corals at North Bay are beautiful and are spread through a long coastline. Dive a bit to catch some glimpses of lobsters, clownfish, stonefish staring at you from behind the corals. The experience is a rightful mix of thrill and fun for all divers, especially the first-timers.
Lie down in the sun or explore the island both are equally captivating options. Apart from snorkeling, scuba diving, sea walking, glass boat ride, and various water sports. That is offered in most other tourists friendly islands. Here in North Bay Island, you find the option of being in a semi-submarine. That takes you down to the ocean bed even without touching the water. And gives you the virtual feel of being under the water. While you get amazed by the variety of marine creatures. The variety is endless and enough to make you stare open-eyed. Not willing to miss a single chance of seeing something pretty and wild inside the ocean belly.
5. Baratang Island
This exotic island is famous for its exquisite secluded beaches, mangrove creeks, mud volcanoes, and limestone caves. Each of which is unique and worth a visit. This makes it a Top Places To Visit In Andaman And Nicobar Islands. The experience of the mud volcanoes. And limestone cave is so enigmatic. That it is worth a peep for the adventurous and brave at heart. Guides are provided and permission needs to be secured. From the Andaman Forest Department for limestone cave exploration.
6. Viper Island
Viper Island is scarred with the witness to the inhuman punishment and torture of the Indian freedom fighters. The island is said to derive its name from the ship named H.M.S. Viper in which a Britisher Archibald Blair had landed at Andaman and Nicobar Islands. The ship is said to have drowned near the island. Viper Island is as tainted with the blood and sacrifice of the brave national heroes. It was the jail where the prisoners were captive before Cellular Jail of Port Blair was built. It contains the ruins of gallows on top of a low hill. The worst form of torture was given to the political prisoners in which they were chained together through iron couplings. That earned the name Viper Chain Gang Jail. The prisoners were also subjected to hard labor. Apart from the historical taint, Viper Island is also blessed with immense natural grandeur.
7. Ross and Smith Island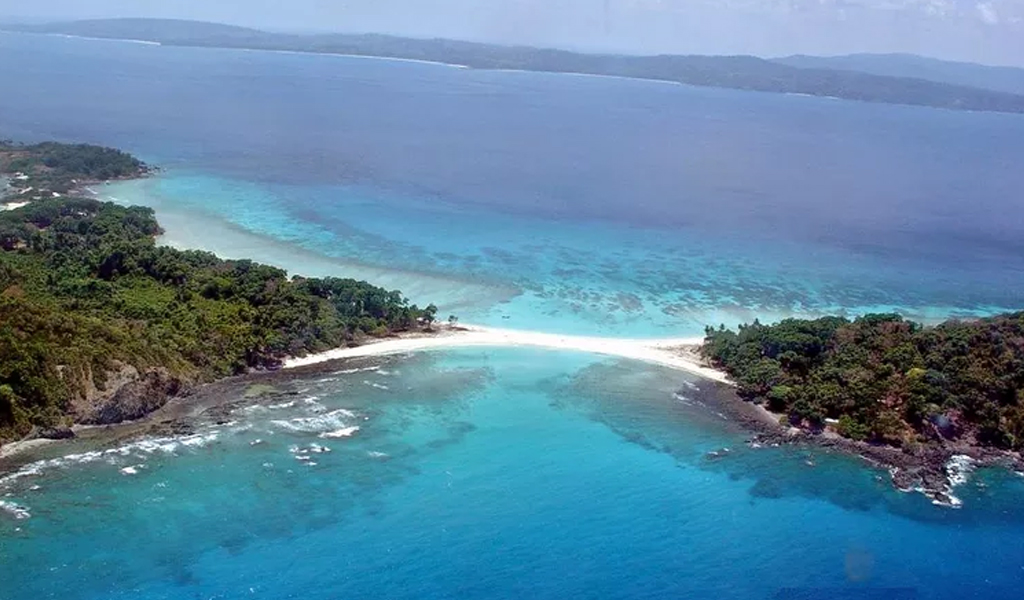 Ross and Smith are the twin islands of Andamans. Both the islands are connected by a sand bar that makes it extremely picturesque. Ross and Smith Islands attract a lot of tourists from all across the world. The sand bar gets submerged during high tide and then resurfaces during low tide. One can simply walk over from one island to the other via the sand bar. Enjoy photography of secluded beaches and glorious sunsets for which the pair of islands is famous. The island is also known to be the home of Olive Ridley Turtles. And you can enjoy the view of turtle nesting and hatching of baby turtles and their march to the sea. If you are lucky enough. With its scenic view, we consider this as a Top Places To Visit In Andaman And Nicobar Islands.
8. Cinque Island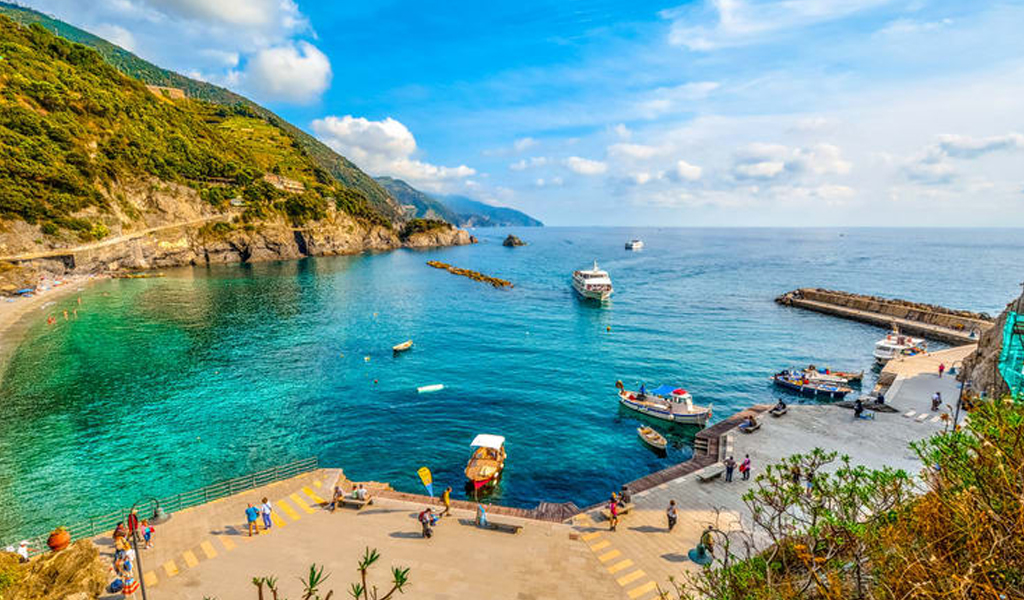 Cinque Island is not that highlighted maybe because there are similar other islands. Which are marketed aggressively and Cinque Island gets shadowed. It is a natural paradise and compares to the beauty of the more hyped islands. Blessed with white sandy shorelines, captivating coral reefs, and the extensive azure oceans. This island will be loved by every tourist.
This uninhabited island calls for a unique experience. The rocky isles and sand bar joining the North and South Cinque islands are a treat to the senses. The virgin beaches attract tourists from all over the globe who run away from civilization and the crowd. This island offers snorkeling and diving in peace and solitude. Game fishing of giant GTs, black marlins, and tiger Cobras can be super exciting. Chartered boats reach Cinque Island from Port Blair. It is around 39 kilometers away from Port Blair.
9. Rutland Island
This magnificent island is situated very close to Port Blair. It is just 20 km away from port Blair. And can be conveniently reached by boat. It is popular for being the home to the native Jangil tribe of Andamans. The tribal population is concentrated in the island interiors.
Rutland Island has prominent mountain peaks. By the name of Mount Ford. Which is 433 meters high. And Mount Mayo, which is 227 meters high. The island has very few inhabitants. Who majorly speak Hindi, Bengali, and Tamil languages. As with all major islands, the primary attraction of Rutland Island is variegated coral reefs. Which is blessed with a rich variety of marine life. These coral reefs attract divers, snorkelers, and scuba divers. The island is filled with hills, dense jungles. And a rich variety of shrubs and jungles. Open water diving is popular. For a variety of underwater creatures and colorful corals. The fun and relaxing tourist attraction spots of Rutland Island are Jahaji Beach, Bada Balu, Photo Nallah, and Dani Nallah. With its beautiful mountains, this is said to be Top Places To Visit In Andaman And Nicobar Islands.
10. Mount Harriet National Park
The Mount Harriet National park was established in 1969. Mount Harriet Peak is located in the park. Which is the third highest mountain peak in the Andaman. It is a reserve forest with mountain ranges and beautiful coastlines. The infamous Kalapathar, which is bloody and still considered a curse. From where the Indian prisoners under the British rule were pushed to their horrific death. On the ravines is located around 2 kilometers away from the park.
Mount Harriet National Park has very beautiful beaches. Thus when one treks across the park. One can find beautiful coastlines, a wide variety of endemic flora and fauna. And a host of colorful butterflies. Mount Harriet also harbors a tribal community in its depths. Who actually belongs to the negrito race. And are basically hunters and food gatherers, living a primitive way of life.
11. Chidiya Tapu
"Chidiya" in Hindi means bird. And as is implied by the name, Chidiya Tapu is the ideal place for bird watchers. For viewing rare migratory birds. And also the common indigenous birds, which are the attractive feathered residents of the island. Chidiya Tapu harbors a very exquisitely beautiful beach. Which attracts tourists in large numbers. The spot offers captivating views of sunrises and sunsets. The mix of dense deep evergreen forests on one side. And the beauty of stunted hills on the other side. Flanked by mesmeric beaches. Make's this spot idyllic. one can view at least 46 varieties of endangered species of birds. And animals in the vicinity.
12. Rangat
Rangat is quite a large island in the Middle Andamans. It is blessed with nature's bounty. In the form of pristine beaches, lush green vegetation, cascading waterfalls, and interesting flora and fauna. The population is scanty and composed of simple and down-to-earth people from Tamil Nadu and Kerala. The main occupations of the populace are fishing and cultivation. Rangat is an ideal location for nature lovers and tourists obsessed with exploring lesser-trodden places on earth. The gentle sea breezes and the warm sunshine on the sandy beaches and the ever-extending oceanfront. Offer a sense of peace and tranquillity that attracts a lot of tourists from all across the globe. Rangat also offers deep green forests and clear blue skies. Pnd perfect locations for chilling on the beach and sunbathing or relaxing. Photography, trekking, enjoying the Panchvati Waterfalls are some other attractions
13. Mayabunder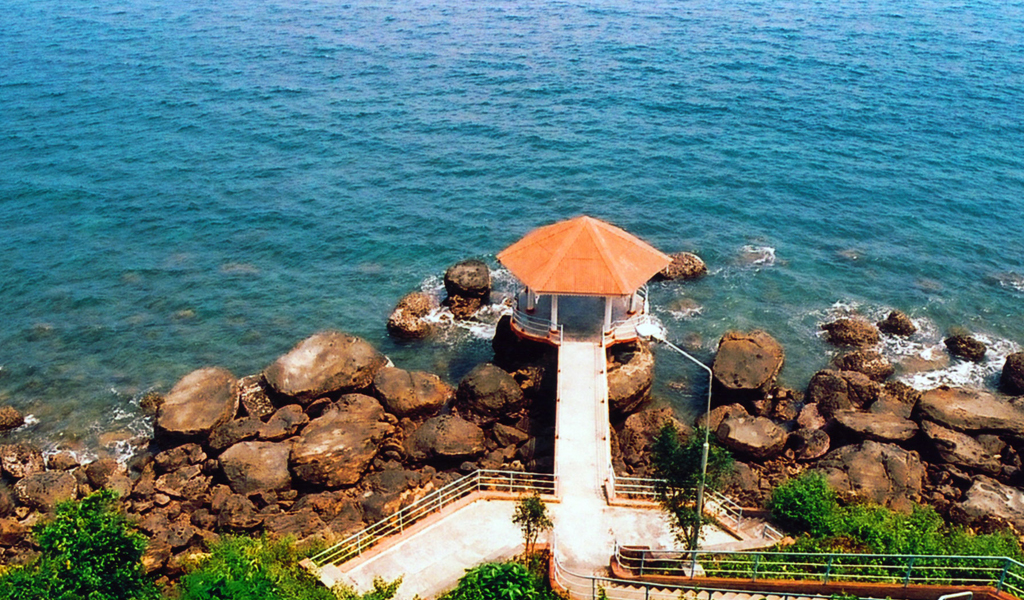 Mayabudner is located on the northern side of the Middle Andamans. Even though it is a bit far from Port Blair it is definitely worth a visit. Mayabunder can also be reached in three hours from Rangat. Mayabunder makes for a perfect location for a beach holiday. Far from the maddening society and civilization, in the lap of nature. It offers fascinating mangrove creeks and entrancing beaches. Mayabunder is also the home of former Burmese Karen Tribes. These tribes were known to serve the British as logging laborers in the pre-independence era.
The chief attractions of Mayabunder are the enigmatic Karmatang Beach, interesting Interview Island, serene Rampur Beach, and enchanting Avis Island. Karmatang Beach is famous for being the nesting ground for turtles. Avis island on the other hand is small and uninhabited. And known for its beauty exuding from the sea, beach, sand, and coconut plantations.
14. Diglipur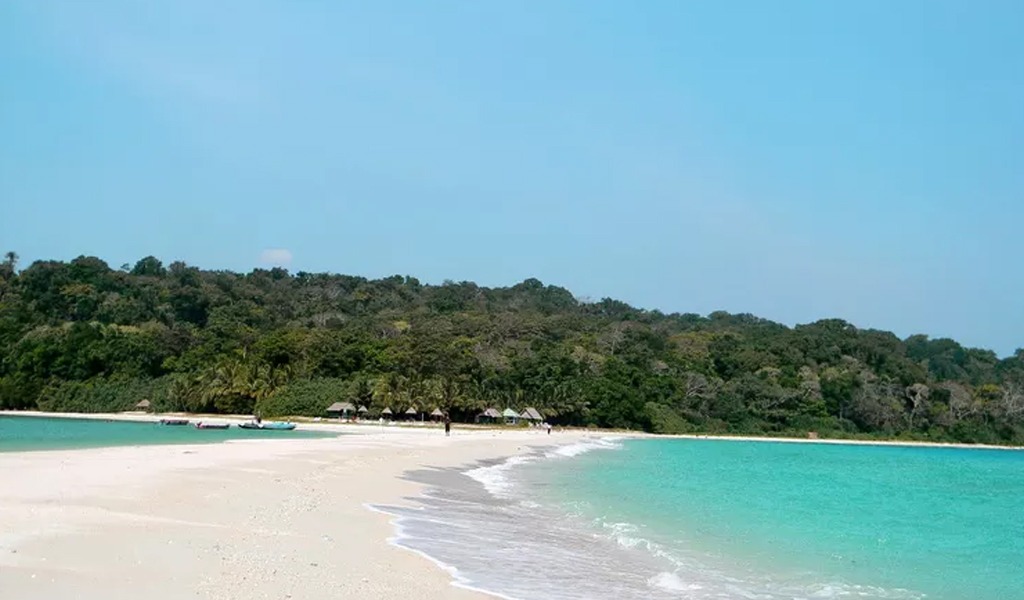 Diglipur is a haven for tourists and travelers who are looking to spend a vacation. That is intensely close to nature. And provides absolute peace and solitude. It presents an agricultural face. With orange plantations and stretches of very green rice fields. Situated in North Andaman, Diglipur construes a dream vacation with infinite sea beauty. Unbridled view of wide expansive seas, foam lapped shoreline, and pleasant sea breeze.
Diglipur is located 325 kilometers away by road from Port Blair. And it takes nearly 12 hours to reach. The highest point of Diglipur and also of the Andaman archipelago. Is the Saddle Peak. Which is surrounded by Saddle National Park. Andaman has only one river. Kalpong, that flows here. Diglipur offers unique glimpses of simple rustic life. Which is led by the local people. The simple ways and humble and friendly nature are extremely pleasant.
15. Aamkunj Beach
Aamkunj Beach has a magnificent coastline. And is loaded with surreal natural beauty. That exudes peace. And is a paradise for bird watchers. It is located close to Rangat. Which is about 8 kilometers from Rangat. While one travels towards Mayabunder. This beach offers a very cool swimming location. And is also appropriate for sunbathing and relaxation. Amkunj Beach was provided with basic tourist facilities. In the form of eco-friendly huts, wooden sofa and table, and natural groves. These groves were named after trees. That are found locally such as casuarina, Jamun, and pandanus.
16. Dhaninallah Mangrove Nature Walkway/Walk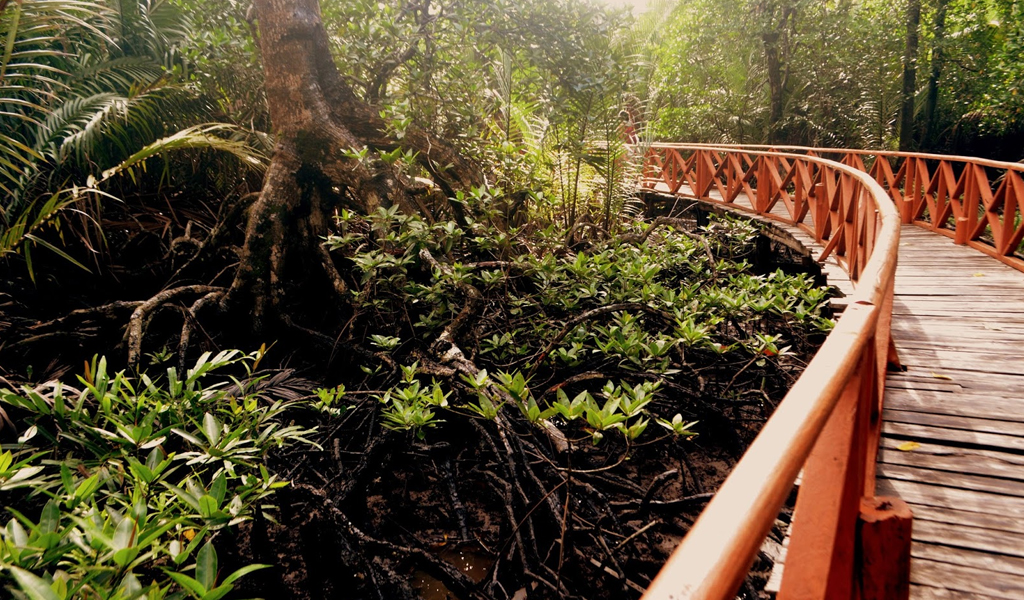 Dhaninallah Mangrove Nature Walk is an exquisite beautiful walkway. Among lush mangroves. With the air filled with the scent of the sea. This place can be reached by taking a short journey via the Andaman Trunk road. It is actually located around 20 kilometers from Rangat. It is a superbly long walkway. And one of its kind in the whole of India. And hence very unique. The name Dhaninallah came into existence after the name of a variety of mangrove locally called Dhanipatti. This Walkway straightway leads to a captivating. And the long beach is known as Dhaninallah Beach. Which is famous for being a turtle nesting ground. The walkway is exceptionally beautiful at par with the beauty of the beach. The walkway has been constructed among the mangrove. Which is around 715 meters long. Leading to the beachfront crossing creeks and mangroves.
17. Panchavati Waterfalls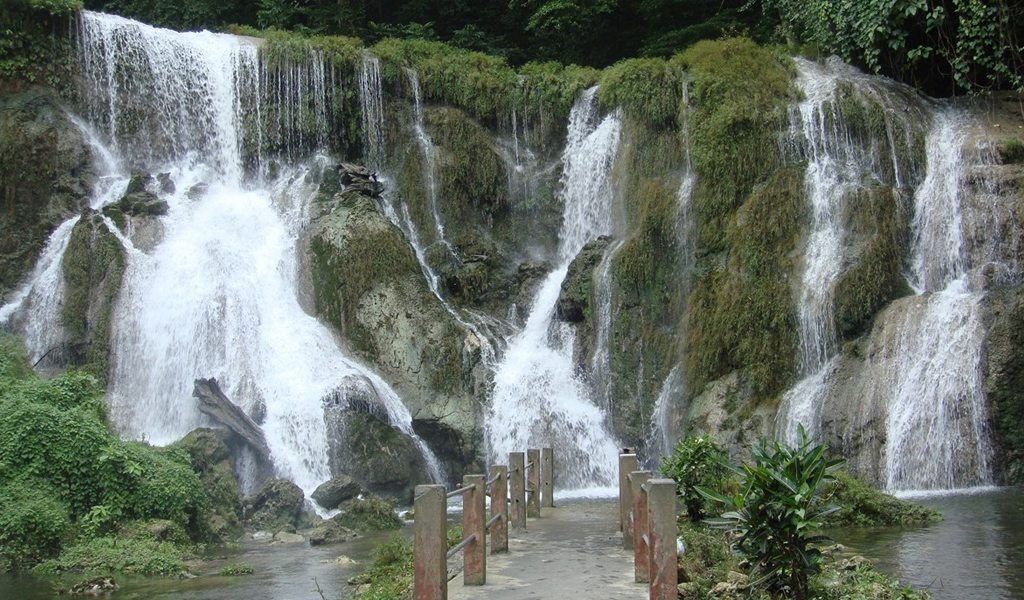 Panchavati Waterfalls is located on the Panchavati Hills. And commands a unique and beautiful location. Even though it is located 200 kilometers away from Port Blair. Which is the capital of Andaman and Nicobar Islands. The waterfall tumbles down from quite a great height. And is a natural wonder. The beauty of waterfalls and the lush green surroundings attract a lot of tourists from far and near. It is an ideal location for trekkers too. And if you intend to trek, you need to wear comfortable shoes. Also, the waters of the waterfall are inviting. And in case you are tempted to take a dip. Carry an extra change of clothes. There is no stipulated time for entry or fee or restriction for entry. It can be visited anytime from sunrise to sunset. The location is ideal for nature photography, fishing, and tasting the local culinary delicacies.
18. Cuthbert Beach/Cuthbert Bay Wildlife Sanctuary
Cuthbert Beach is a pleasant sandy beach. Commanding an unhindered view of the beautiful azure blue seas. It is an 8-kilometer long picturesque beach. Fringing the Cuthbert Bay Wildlife Sanctuary. The walk on the beach is replete with the greenery of coastal zone vegetation. The beach is provided with eco-friendly huts for resting purposes. And also provides information to tourists. Those are arriving at the beach for exploring the natural beauty from far and near.
Cuthbert Bay Wildlife Sanctuary is located in the Middle Andaman Islands. It is an ideal location to enjoy the peace and solitude of quiet and simple village life. Cuthbert Bay is also tremendously noted the world over for being a turtle-nesting ground. This beach and bay area is 20 kilometers from Rangat. Amkunj beach, which is 15 kilometers away from Rangat jetty. Towards Mayabunder. Mayabunder and Diglipur are all well connected to Cuthbert Bay Beach area. While entering the Cuthbert Bay Wildlife Sanctuary the travel through the mangrove creek. Can get immensely thrilling. As one can spot Salt Water Crocodile. The water Monitor Lizards along with other reptiles. Such as the water and terrestrial snakes living in the surrounding forests. And mangroves from other major attractions. Long stretches of the beach makes it in the Top Places To Visit In Andaman And Nicobar Islands.
19. Cellular Jail
Cellular Jail is one of the most historically significant monuments in the Andaman Islands. As it used to be the place. Where Britisher officers used to send prisoners for exile. During the period of their rule. The walls of this jail hold many stories of the brave Indian freedom fighters and prisoners. Who have withstood torment in the cells of this very building. The jail is also referred to as Kala Pani. Meaning black water in Hindi. And what was the term for prison cell confinement during that period.

The construction of the jail took place in the years 1896 and 1906. However, the British officers had been using the prison as an exile for prisoners. Right from the period of the Sepoy mutiny, during the late 1950s. The mutiny caused the death of a large number of Indian soldiers. By the hands of the Britishers. And those who managed to survive. Were sent to the islands to live the rest of their days there. The history of the jail makes it to Top Places To Visit In Andaman And Nicobar Islands.
20. Mahatma Gandhi Marine National Park
Tucked away from the buzzing city streets. Mahatma Gandhi Marine National Park is one of the most surreal spots in Andaman. It is situated in Wandoor village which is about 29 kilometers away from the capital city of Port Blair. This park houses 15 quaint islands. Which exhibits the most quirky underwater life. Dating back its establishment to the year 1983. Mahatma Gandhi Marine National park features lush mangrove cover. And peaceful beaches which add to its aesthetic appeal.
Most of the islands here are protected. And hence could not be accessed by the general public. The park sprawls over an area of 281 square kilometers. Encompasses coral reefs, mangrove creek, rainforests, and lagoons.
21. Jolly Buoy Island
Nestled away in a small corner of Andaman and Nicobar. Is the Jolly Buoy Island. An uninhabited and ecologically preserved island. Which is known for its clear waters and beautiful coral reefs. That makes it one of the most sought-after sports in the Andaman. For scuba diving and snorkelling. And truly being able to experience the beauty of nature. That is unaffected by man-made dirt and pollution.

Getting to the island takes quite some time. As you need to take a boat from Wandoor Beach. Located in the Mahatma Gandhi Marine National Park. Which is situated around 30 kilometres away from Port Blair by road. After you reach Wandoor Beach. You will need to travel another half an hour approximately to get to the island. On this boat, you will get a sneak peek of the beautiful underwater coral reefs. Because of how clear the water is. And if you would like to explore the sea some more. You can always opt for underwater snorkelling and scuba diving once you get to the island.
22. Limestone Caves
Settled in Baratang Island. Limestone caves are a wonder to see. And surely a visual treat to the eyes. These caves are one of the deepest man-found hollows. And purely natural in its existence. Which formed over millions of years back. Fundamentally sedimentary rocks, limestone caves were formed. Due to the compression of deposits like algae, marine life, corals, shells, and skeletons of various water species. From walls, floors to the ceiling, the caves are carrying a rough yellow and white color. And its cavities are very much virgin. And untouched at various locations. Even today making it a must-visit the location during your trip to Andaman. The uniqueness of these caves add Limestones cave in Top Places To Visit In Andaman And Nicobar Islands.
23. Kala Pathar Beach
A visit to Havelock Island is incomplete without exploring Kala Pathar beach. The beach offers a stunning contrast of black boulders. Against white sandy shores. Witness the unique confluence of the two. Along with the spectacular view of the azure sea. Those waters make up for a striking sight. It is also the perfect site in Andaman. For some introspection and much-needed solitude. Far away from the humdrum and concrete jungles of the city.
24. Sri Vetrimalai Murugan Temple
Sri Vetrimalai Murugan Temple at Port Blair is the biggest pilgrim site of the Andaman Islands. For its spectacular nuances of Dravidian architecture. And intricate artwork. That leaves one spellbound. As soon as one steps into the temple arcade. Situated behind the governor's place. Sri Vetrimalai Murugan Temple is dedicated to Lord Murugan. Or Karthikeyan- the son of Lord Shiva. Who is one of the most revered deities of the Tamil folks. Sri Vetrimalai Murugan pilgrim tour packages are available for supporting tourists. Those who want to witness the historical temple. And collect vivid memories of the festivals first hand. 

The history of Sri Vetrimalai Murugan temple dates back to the time of pre-independent India. Which hails as an insignia of India's rich cultural diversity. The temple was built in 1926 in the Ross Islands. By the British rulers to win the loyalty of the Tamilians. Later its venue was shifted to the capital city Port Blair post-independence. Thousands of tourists and pilgrims visit this colossal sanctum. In order, to participate in the main festivals. Panguni Uthram, Kanda Shasthi, and Thai Poosam. The typical Dravidian architecture and paintings on the interior of the temple. Resemble those in the Kanda Kotta temple at Chennai in Tamil Nadu.t
25. Madhuban
Madhuban is a stretch of dense thickets and woods that lie in the outlying area of Ferrargunj. In the district of Andaman in the Andaman and Nicobar Islands of the Bay of Bengal. The foresty patch of Madhuban. Which basically belongs to the territory of the Mount Harriet National Park. And stands out to be every trekkers' fantasy across India.
This tempting trek passes through glimpses of wildflowers in full bloom. And, a plethora of rare species of the macro. As well as micro-organisms. And a collection of visual retreats of a variety of butterflies and birds. In the company of melodious birdsongs and whispers of nature. The very picturesque Madhuban trek helps lift up the thrill and the spirit of adventure. Inside the heart and soul of every trekker and an adventure bearer!
26. Parrot Island
One of the most beautiful parts of Baratang Island. Parrot Island is reckoned as a bird's paradise. Tourists across the globe, flock here to experience the real beauty of heaven. Parrot Island is blessed with rich flora and fauna. Which is governing the natural beauty and aesthetics of this pristine land.  On your way to this Island. There is yet another worthy of halting destination called the Jarawa Tribal Reserve. This region is inhabited by the Jarawa community.

As you reach Parrot Island, you start hearing the voice of thousands of parrots. This makes it a heaven for nature lovers, bird watchers, and wildlife enthusiasts. There are a plethora of both the parrot and parakeet species here at Parrot Island. Riding a boat allows you to gaze at the vastly stretched crystal blue sea. Bird watching, boating, sunset sightseeing, photography, and adventurous trekking are some exciting things to enjoy on this island.
27. Rajiv Gandhi Water Sports Complex
For the water sport enthusiasts and adventure fanatics. There is no better place than Rajiv Gandhi Water Sports Complex at Andaman. Rajiv Gandhi Water Sports complex also called the Andaman Water Sports Complex. Is located near the cellular jail in the northwest part of Port Blair in Andaman & Nicobar.

The first of its kind in India. Rajiv Gandhi water sports complex. Provides an exhilarating experience and indelible memories to visitors. With its assorted aqua sports such as safe water sports and adventure water sports under one roof.

Some of the thrilling activities in safe water sports include Paddle Boats, rowboats. And water cycles, glass-bottom boats, bumper boats, etc. Along with, Jet skiing, parasailing, banana boat rides, speedboat rides, windsurfing, etc make up the adventure water sports.
So, here was a list of Top 27 Places To Visit In Andaman And Nicobar Islands. Now it's your turn to pack you and get going on a trip. To the desired location of yours. Have fun in these Top 27 Places In Andaman And Nicobar Islands with your family or friends.
Here are some more blogs:-
Total Page Visits: 319 - Today Page Visits: 4